Interview with Alter Bridge bassist Brian Marshall
Submitted by PrimalNoise on Wed, 10/11/2010 - 01:00
25 October 2010
After being escorted around backstage at the O2 Academy Birmingham during a soundcheck, we're eventually taken to the dressing rooms. Being unintentionally given a tour of the backstage area wouldn't be a bad thing, if we weren't starving hungry at that particular moment, and meeting Brian in the dressing room with a rather large cup of what can only be described as the world's most delicious (looking) soup ever known to man, docked with vegetables and leaves, swimming in a steamy liquid, the aroma hits our noses and we're really feeling it. Still, we're ready for the In-depth chat, Brian's about to bless us with.
With a quick introduction to acquaint ourselves whilst interrupting poor Brian's lunch, we're straight in with the grilling, and getting himself comfortable, Brian opens up. "The tour's going pretty good so far! We're about 8 shows into it... I think we have two or three left in the UK and we wanted to start over here. The UK fans have been great for us and we're really psyched that we can come back and play for you all." he begins, smiling with a genuine sense of appreciation at returning to a welcoming crowd amongst our shores! "I enjoy the UK, it's just.. .rainy all the time." he laughs, "Though, over the last two days, the sun has actually come out!"

After establishing the UK's poor quality weather, Primal Noise discovers exactly why that is as Brian divulges a little about his life off the road. "I have a little, small hotel in Costa Rica. I live there, though still have my house in Florida. It's a little boutique hotel, that's got a bar and restaurant in it. My wife runs it, so she's always there, taking care of it. When I get down there, I like to fish a lot. I like to do anything outside, really." he explains before taking a gentle look at himself. "You can't tell it by my skin colour... but I do like to be in the sun!" he laughs before continuing. "It's actually not really difficult being separated from that side of my life for such long periods of time, as it's kind of all I know. It's all that I'm used to. I think coming off the road and going back into Costa Rica or anywhere, I feel like I'm perhaps deeper within myself, and it's just a different way of spending your days I guess. Out here, it's nice to have people working for you, and doing things for you, and then when you get home it's like 'Hmm'" he chuckles while making making a gesture of twiddling his fingers. "But as far as coping when finishing a long tour, I kinda go crazy! But, we're on a pretty rigid schedule. Like, this one isn't really that rigid, but we're always going from like point A to point B, and all the things in between is a LOT of sitting around!" he explains bemused.
Tucking into his afforementioned (delicious-looking) soup of wonder, crunching happily on its contents in between questions, he continues on with insights as to what Alter Bridge really are. "Alter Bridge, I think, in the beginning we started as sort of a spin-off from Creed, and it took a while for us to develop and actually come into our OWN sound. Initially we were kinda struggling as far as which way to go, we wanted to be a lot different from our past efforts with Creed, and we felt that Myles Kennedy was like two-totally different ends of the spectrum as far as his vocal range is. Overall, I think our sound is a little more creative and a little more heavy than our past efforts, I don't think we've forced anything, it just sorta happens the way that it does naturally, which is, when we go into writing and then into rehearsals and even recording. Nothing to enforced, it's always just an evolution" he nods. Observing Brian whilst he speaks, it's clear to see he's a very calm, collected and enthusiastic man with a strong focus on what's at hand and what he wants. Speaking of the band's potential success and what he hopes for Alter Bridge's future, and in the most stone-cold serious face, he explains his wishes, "World Domination." Then laughing, he relaxes his demeanor and continues. "No. You know, I'd be lying to you, if I didn't say that I want the band to achieve the utmost of success that a band can do. Playing stadiums and arenas and things like that, I'd like Alter Bridge to be able to do that. Other than that, just staying together and keep forging a path of development and music, and just fun and with a passion for it. If I could tour with anyone, I would probably have to say Iron Maiden." he tells us with a smile.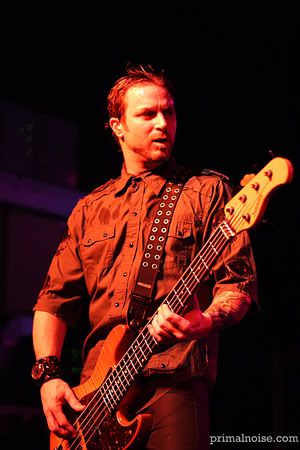 Brian shows a different side to himself, aside from the fishing, and more relaxed approach to the off-road side of life, with taking us into the scenario of 'what if this didn't happen?' He says "You know, if this career wasn't an option for me, I would do something in the arts, as far as drawing or anything like that. I worked as a CAD operator for a while, drafting houses. So I'd probably get into the technical drawings in CAD, that sort of thing. I worked as an Architect and studied interior design at college. I wouldn't do the interior design though. I couldn't put any colours together to save my life, but as far as space planning and that sort of thing, I can really get into that." he chuckles. With over 16 years of a musical career under his belt, Brian lets us into the details of his own personal growth from his early days, to right now. "I feel like I've really developed my style of playing the bass and adding the bass to the songs. I think overall I've just got better, as far as knowing when to play and when not to play and not OVER play, and then still working with all the different musical elements at the same time. Being in the rhythm section, you're always a backbone. I key off things that Myles is doing with his voice, and I can kinda play into that too, and of course dark progressions. Even though bass is like the root of it, I tend not to follow the exact progression because I like to make it unique to the song and for the progression. Again, overall I think I've just gotten better. I practice and just try to one up myself." he explains, taking a short break to take a sip of the lunch we so cruelly intruded upon, he carries on, this time explaining Alter Bridge's developments for him personally. "Music in general, when it's written, is a point in somebody's life where either we're usually in a good space or we could be in a bad space, but in the end, once a song is developing and the lyrical content comes into play, it's like it almost feels like we already have this personal relationship and this closeness with the song, so then once the lyrical content comes in, it's like you can REALLY relate to it. Sometimes I feel like all the songs are written about ME and my life, as I can really relate to a lot of the things. So I find it a very personal thing. Sure there's growth, growth comes with songs and emotion." he inspires.
Alter Bridge's recent release 'AB III' hit the UK stores on 11th October 2010. Brian explains to us what they were trying to convey with this album. "Thematically the record is pretty much based on a man or a woman who has come to the brink of either heaven or hell, hope or faith, right or wrong, that sort of thing, and it really doesn't go into which way, it's more about the path that you choose. Our song, 'Slip To The Void' is one of those songs where the man, or woman is on the cusp of something and it's either they go this way, or that way, so I think there's a lot of underline messages about faith. Myles has come forth and said he's agnostic and I'm a really spiritual person, I don't really believe in segregating religion." he confesses.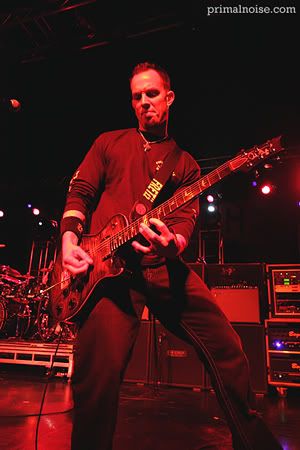 Next he goes on to speak of where he draws his own inspiration from when writing new material such as 'AB III'. "Mark is the main song writer, he brings in the guitar riffs and whatnot. But as far as getting it all together, when we initially start playing a riff, there's a feeling or emotion that's automatically sparked, and once that happens, the inspiration behind the music just kinda happens. Sometimes it works, sometimes it doesn't, y'know? It is inspiring. It makes you want to just continue what you're doing, and maybe start on something else." he nods. Taking on a twist and a laugh, Brian is asked to divulge into a secret! After giving us the warning "If I told you, I'd have to kill you..." and Primal Noise assuring him that we are quite willing to take that risk, he grins and lets us in on a secret. "You know, we're pretty tame. It's not like a whole bunch of crazy stuff going on. I think probably the craziest thing is our drummer likes to streak! He's a closet streaker. But so far no internet streamings!" he laughs. We can assure you, Brian, from now on there will probably be a higher number of searches for Mr. Scott Phillips running around in the buff!
Taking us into the recesses of his mind, Brian quickly mulls over every show they have performed to re-tell the experience for a best and worst show to date. "My best show... I have pretty much a great time everytime I'm on stage. When you don't have a good show, or you feel like you don't have a good show, you're the only one that knows it... usually." he laughs before continuing in quickly "Hopefully! It's just a mental thing, y'know? A head space is really important. I don't know how the guys in the 80's could do a gig drunk or high or something like that. I can't do that. I have to be focused. I have to hone my craft." he tells us. Thinking a little longer still, Brian is silent for a few moments, memories of shows gone by no doubt whizzing through his mind. "Worst one... I think when it goes SO bad, it's more like the power will shut off, or something. As far as having a bad show, it's just the mental thing, you gotta break out of it and just continue on. Sometimes if you're head isn't completely there... Like, I had a panic attack once on stage, and it freaked me out. Everything turned white, I felt my heart race and I was like "Holy shit, there's a lot of frickin people in this room" And I was like "Alright just breathe!". But two songs later, I was cool, so I kinda came out of it. All I could do, in that moment was just make sure that I had everything right, and keep breathing, because I thought I was gonna pass out, it was crazy! That kinda stuck with me for a while, and I was like "Why did that happen? Why?!" So... that would be like a bad, scary moment at the show. But as soon as the first note hits, usually, it's a real buzz, and the nervous, anxious feelings kinda go away and you're in that zone." he explains.
Concluding off our chat, Brian tells us his opinion on music downloading, both legal and illegal. "Downloading music is, when it's done legally, I think it's a great medium for everybody, even for the artist. It's just a way for 'How are we going to release it' and go about making it right for the artist. I think it's a good thing, actually, music has always been able to pirate in record intellectual property. I'd actually have two radios and they both have the sets and I'd play the radio and kinda record the song through the radio station at the same time. I don't think we'll ever be able to stop it." he smiles, before finally, in keeping with the illegal theme, we ask him our trade mark question. "If you were sent to prison, who would you want as your cell mate and why?" Brian gives us one of the best answers to date. "The Dalai Lama." no hesitations, straight in there. Good man! .