X Japan Live at Shepherds Bush Empire, London
Submitted by PrimalNoise on Wed, 06/07/2011 - 10:13
X Japan
O2 Shepherds Bush Empire
London, UK
28 June 2011
Rating: ★★★★★ / ★★★★★


X Japan are a household name in many countries and one of the most successful and influential bands in Japanese history. Following their American debut at Lollapalooza in 2010 the band played the biggest concert in the bands history selling out Japans 140,000 seat Nissan stadium for TWO consecutive nights. As if the bands acheivements weren't proof enough, Yoshiki alone can boast enormous personal success. Not only has he produced some of Japans biggest bands including Dir en grey and Glay, but at the request of the Japanese government, Yoshiki composed a piano concerto and perfromed it with a 77 piece orchestra at the celebration of Japans Emperors 10 year reign. Even great comic writer Stan Lee has announced that he's creating a superhero based on him. With such huge, worldwide accolade it came as no surprise to discover the bands first ever performance in the UK completely sold out at Londons 2000 capacity 'Shepherds Bush Empire'.
.

The queue outside the auditorium reaches far and wide around the streets of Shepherds Bush. The atmosphere even out here, an excited buzz as the thousands wait eagerly to be let in, including a multitude of fans dressed as their idols in highly detailed costumes for what was to become one of the best shows we personally have ever been lucky enough to witness.
After the lengthy process of getting the guests into the building and a brief set from 'Japanese Voyeurs', the audience in its entirety are screaming for the band. A multitude of glowsticks in the form of an 'X' shining brightly throughout the crowd until finally the band appear onstage. Yoshiki's stage presence oozes regality, as he stands at his drumkit observing the audience while the band prepare and the audience go wild
After the orchestral opening, the band go straight into their newly released single 'JADE', the loud screams of the audience reaching the ceilings and beyond. Vocalist TOSHI's voice emanates elegance, which you wouldn't necessarily expect from first glance, while guitarists SUGIZO, (also of Luna Sea) & PATA, and bassist HEATH throw themselves full force into their performance, full of energy as the intensity builds with each second that passes.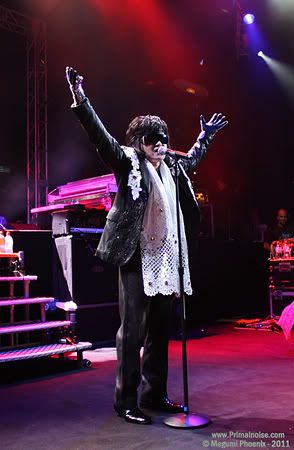 One of the most astounding things that becomes increasingly apparent during the course of the evening is just how talented every musician in this band really are. There are many truly masterful displays of guitar prowess, backed by some truly impressive drumming and Toshi's powerful pipes. As if that wasn't enough, Yoshiki proves his skill doesn't end with drums. Classically trained in Piano, he impresses with beautiful interludes on a crystal grand piano throughout, not to mention an accomplished violin solo from the multi-talented SUGIZO, which even includes excerpts from'The Godfather' theme, playing with such an amazing skill, that touches the hearts of many.
With not only talent, it would appear that drummer YOSHIKI also has a great sense of humour, declaring his desire for some PG Tips causes a cheer of laughter before breaking into "Born To Be Free" on the piano, to which the audience to go wild. Toshi's vocals are ethereal in splendor as the audience sing alongside him with all the energy they have.

The performance as a whole is filled with emotion for both fans and band alike. Glancing around it's always easy to spot at least one person in tears, or friends with hands gripped so tightly together in the air that their knucles are white; even the excited calls of the band members names come regularly at the end of each song.
After Yoshiki tells the audiuence that former X member, HIDE (Hideto Matsumoto) -who sadly passed away in 1998- is there playing with them tonight, the entire audience suddenly begin to chant 'hide', until the band break down in an emotional display. Yoshiki himself then admitting that the audience made him cry, before going into a truly heart rending version of 'Endless Rain'. The entire crowd sings along at Toshi's request, even when the band stop playing, overcome with emotion, the audience sing on softly, in unison. It was a true honour to be a part of such an experience. A moment where both band and audience felt truly bonded together.
In years to come there will probably be thousands upon thousands claiming to have attended this first monumental performance in the UK, but for all those actually lucky enough to attend I'm sure it will be something they'll never forget . With music that's not only masterful, but beautiful, and a performance filled with energy and emotion, it's not hard to see why X JAPAN have inspired so many of Japan's great bands today, and will probably continue to do so for years to come. If there's one thing each person should do in their lifetime, it's catch this band live. Truly Magnificent.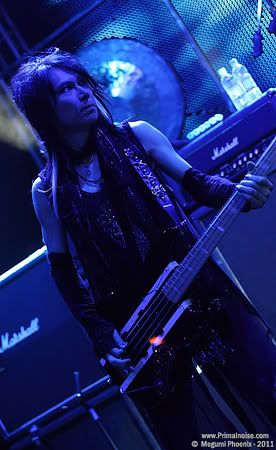 Setlist




Jade
Rusty Nail
Silent Jealousy
Drain
Kurenai
Born To Be Free
I.V.
X
-
Endless Rain
Art Of Life


more pictures in the gallery soon
X JAPAN's new single 'JADE' is available to download at itunes.


Click logo to visit iTunes store