Interview with ASKING ALEXANDRIA 2012
Submitted by PrimalNoise on Mon, 23/01/2012 - 21:59
Just after Asking Alexandria return from their signing session in Wolverhampton on a cold evening on the 20th January 2012,
Primal Noise are invited into their dressing room, backstage at the Wulfrun Hall for a few words with the heralded 'new bad boys of rock'. While most of the band relax before they're due to go on stage, we pull guitarist Ben Bruce from his game of Temple Run to answer a few of our questions.
Primal Noise: How's the tour going so far?
Ben: It's been good. We always look forward to coming back to the UK because we don't get to come back here very often, which is a shame since we're from here, but that's just the way it goes. Yeah , next to no fuck ups except for last night, JAMES forgot how to play one of our songs and we had to stop playing half way through, which was embarrassing AND it was on the encore
James: Hey, you fuck up all the time!!
Ben: Yeah but no-one notices my fuck ups. When the drummer stops playing, you know, it's a bit obvious.
Primal Noise: Did you manage to just laugh it off?
James: Yeah…
Ben: No we didn't, actually we fired him but we're just using him now till the end of the tour, until we get our replacement in. Our replacement's called Mac(?) we've already got him.
Primal Noise: -laughs-
What about the audiences, how've they been so far?
Ben: Really really good actually. I think maybe because we come here so little they're actually a little bit crazier than normal. In the States the crowds are a lot bigger, but we're there all the time. I mean they're still great shows there, but over here they're just crazy, a little bit more excited. It's great.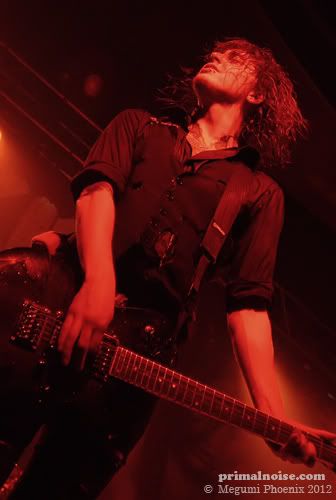 Primal Noise: So besides that are there any other noticable differences between the audiences in different countries?
Ben: Yeah, there's a massive difference… with their accents
Primal Noise: -laughs- Wow, really?
Ben: Yeah the accents are different, that and besides here in the UK being slightly crazier, but I think it's a metal show you know? The same sort of thing goes down well wherever it is.
Primal Noise: Can you tell us a little bit about Asking Alexandria's sound in your own words, rather than how you've been pigeon holed by the media.
Ben: You know, I don't really know to be quite honest. People always ask, but I just classify us as a 'rock band' really. There's all these different branches that have come out. I mean we've been called, 'synthcore' and 'crabcore', 'metalcore', all these random things like 'sexcore' and 'dickcore' I dunno, a bunch of fucking crappy cores. We're just a rock band you know? A particularly heavy rock band, but just a rock band nonetheless.
Primal Noise: How do you think you've evolved as a band since you first started out until now?
Ben: I think we've actually got worse as musicians to be honest. I never practice, I used to practice like, eight hours a day or something, but now, I just don't … We play like, an hour on stage a day, that's our practice. As a band we're tighter, like when we're performing live, and song writing's a lot easier now cause we have our sound, we know what we're going for, whereas when we first started we were all up in the air. There were all these different influences flying in from every which direction so yeah, I guess we've got better at that…
Primal Noise: So what are your influences, and that of the rest of the band?
Ben: I mean, personally we've all got different influences, but as a band for instance, on the new stuff that we're writing now, we're looking a lot at old Slipknot. Cause we loved that band when we were kids, and I almost feel like that sort of music is sorta being forgotten. Everyone when they get to this sort of level think 'oh okay, we need to be bigger and better', and in their mind that means getting more soft and trying to get radio air play and all that. Whereas, we want to try and get out there and prove that Slipknot have done it once before. They were one of the heaviest bands of all time in my opinion, and they were massive and still are massive, so I guess we wanna prove that, that fanbase is still out there and just waiting for another heavy band to come along, and say 'fuck you' to everyone else I guess.
Primal Noise: So is your music a way for you to develop individually as well as 'a band'?
Ben: You know I think it is. I mean, I don't necessarily think so much with the first album, but 'Reckless and Relentless' it was a really… Really, honest album. It really did show everyone a little insight into how we were behaving at that moment in time. We got caught up with everything and let everything spiral out of control a little bit which is what Reckless and Relentless tells everyone. But erm, we all learnt from that, even by listening to our own lyrics and listening to our own album we've really got to toughen up now. So I mean, yeah I guess, YES is the answer. –laughs-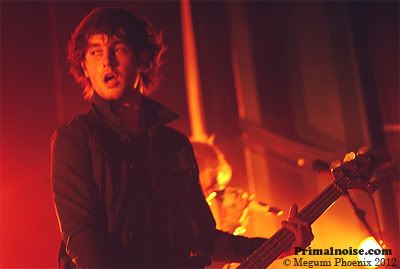 Primal Noise: So, what sort of things do you do outside of the band?
Ben: We don't really have an outside of the band. We get like two weeks off at Christmas and a few days here and there. Whenever we are off, I 'm normally sat in my bedroom writing new music on a laptop, and James normally flies out to where I live in Arizonna to help me out with that. Other than that the other guys take that time off to go and see their girlfriends, we don't really have time to do much else, which I'm not complaining about, it's better to be kept busy than having the band waiting for a show.
Primal Noise: Then, what do you think you'd be doing if the band hadn't worked out like it has. If you weren't musicians?
Ben: Well, Cameron would probably still be working in a grocery store. Sam would probably still be working in a phone shop. James would probably have still been kicked out of uni anyway due to drug use and be living in a shelter somewhere. And I would be a famous film star!
James: Fuck that!
Ben: I'm just being realistic… And Danny would still be living at home with his parents.
I am just being realistic here!
Primal Noise: -laughs- What sort of roles would you play then… being the film star?
Ben: Well I'd be like Johnny Depp. I would just have taken all his roles, his money, his pay cheque… his women!
Primal Noise: -laughs-
Ben: He's lucky I'm doing this actually. His career is still blossoming thanks to me being stuck in this scene for now, this industry –laughs-
Primal Noise: Have your families always been supportive of your musical career?
Ben: Yeah, I mean I can't really speak on behalf of the others, because, well it's not my family. But my family have been supportive since day one. I mean, I've been kicked out of schools and skipping lessons since I can remember, and I think it was apparent that I wasn't going to do anything other than music, so my parents kind of accepted it and did everything they could to help me. My dad bought a recording studio when I was a kid so I could record my stuff at home. I didn't get grounded when I got in trouble for not doing my geography homework. So yeah…


Primal Noise: Has your vision for the band or yourself musically, changed since you started out?
Ben: Well we're just more mature. Like I said, Reckless and Relentless was a really honest insight into the band really. Stand Up and Scream was … I mean, I'm happy that we wrote that album because it did push us into where we are now, but when I look back at it now it was really quite immature and very typical… singing about girls upsetting you at school and bullshit like that you know? So I guess we've just got more mature and more comfortable with working with one another.
Primal Noise: When you're writing new material, where do you draw your inspiration from?
Ben: I normally just stand in front of a mirror naked! It all just comes to me then! Perfection just comes out in the form of music.
Primal Noise: -laughs-
Ben: And that's why our songs are so short
Primal Noise: -laughs-
Ben: That's a secret though, don't tell anyone…
Primal Noise: So what have been your best and worst shows up to now and why?
Ben: Actually I think it's the same show for both best and worst. I mean honestly, you may have heard? most people have… We had this instance in Seattle, where we all used to get so fucked up when we went on stage, it was unreal. But, Danny, on this particular occasion was just out of his mind. He came on stage, fell over and just blacked out on stage for a little while, so we had no singer. Then, when he woke up he just jumped out in the crowd and started beating up some kids… it was just, a nightmare quite honestly. It was the worst show ever, it was really embarrassing. It really hurt our career, but at the same time I think it was probably the best thing that could have happened to us at the time because like I said, we were completely indulging in everything that we shouldn't have been at the time, and it was kind of a massive wake up call for all of us, to go 'Oh my God, this is our career that we're throwing away' so I guess just that one show had the biggest impact on us both negatively and positively.
Primal Noise: Can you tell us something really weird or crazy that's happened to you while on tour?
Ben: Oh, I dunno, I've been too drunk to remember…
Sam: What about Alexander?
Ben: oh yeah, on our last tour we got this massive … well, we asked for this big fat dildo on our rider… And we got one!! That was weird in itself, and then James played a drum solo with it as a stick, which went down well. Then one of our roadies got a bit carried away and after every show he used to go and find a girl and bring her back to the bus and fuck her with it. Good times!
So yeah, that was kinda weird I guess.
Sam: What about that time when you got out of the shower and there was two girls just there?
Ben: Yeah, I was in the shower on the bus, and I just came out all naked and stuff, like 'oooh I've just finished my shower' drying off and shit and there was two random girls who had just invited themselves onto our bus.
Sam: I just thought they were like, part of the tour, or someone's friends, so I didn't say anything… I mean who does that? You don't just expect to see two randoms on your bus.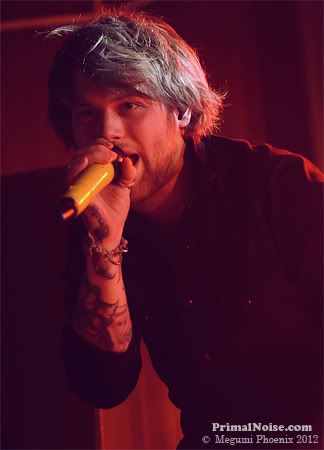 Primal Noise: Do you have a favourite Country to play?
Ben: I don't in terms of how good shows are, because thankfully it's pretty level wherever we go now we've got to that sort of level. But, in terms of visiting Countries I'd say probably Australia. It's just, the weather's perfect , everyone's so friendly, I dunno it's just, really relaxed it feels more like a holiday than a tour when we go to Australia and they just take care of you so well. So yeah Australia.
Primal Noise: Being in such close proximity on the bus for prolonged periods of time, do you find it difficult? For example needing time to yourselves and is that a problem for you?
Ben: To begin with we did, I mean wanking was a big issue with people being there all the time. But now we've come to the conclusion that if we just sit down once a day in a big circle, sort of en masse… and we don't have to do it for ourselves, you have to reach across to the person to our right… and you know…
Sam: This way it's not awkward afterwards…
Ben: Yeah, and it seems to have worked, there's a lot less stress on the bus, we're all at the same place at the same time.. it's good.
Primal Noise: -laughs- yeah I bet it helps you guys feel closer, really builds those bonds…
Ben: Yeah, it's a family bond… one weird, incestuous family.
Primal Noise: What are your biggest fears in life?
Ben: Being forgotten… A lot of bands just seem to drop off the face of the earth, and that's petrifying. Especially when you've worked so hard and get to such a level. You just get used to it, and you're going up and up and up, but then to wake up one day and no-one gives a fuck anymore… That scares the shit out of me. Well, other than the obvious, like your parents dying before you, you know? That's what I think about every day, it's horrible… not my mum dying, the other one…
Primal Noise: Isn't that the way it usually goes though, your parents going first?
Ben: It may not be… not with our lifestyle… and besides, James is very careless with his drumsticks.
Primal Noise: If you could tour with any band, alive or dead, who would it be?
Sam: The Beatles…
James and Ben: But it wouldn't go down well would it?
Ben: I mean, I would pick The Beatles cause it would be amazing, but it really wouldn't go down well would it?
Sam: Black Sabbath!
Ben: I dunno, someone like Slipknot I guess, or Metallica or someone within that heavy realm where we might not get bottled off stage.
Primal Noise: So you've recently announced the tour dates in the US with Trivium and DIR EN GREY…
Ben: Yeah, it's our headline tour after this… it's still part of the same 'Still Reckless tour' that's what we're doing now, but yeah, the American part of it…
Primal Noise: So how'd that come about with those bands? How well do you know them, Do you listen to any of their stuff or anything like that?
Ben: No, well, Trivium, we all used to listen to them a lot when we were kids. So when we found out that they wanted to be on our tour, we were like, YES! Bring it on! I mean that's amazing, such an honour… And then, Dir en grey ...obviously, they're a bit…. well… they're a slightly... strange band, but with their own different fan base. They're like a Slipknot for Japan. So yeah, that's a really cool thing for us as well. Especially as we want to branch out and play to new fans rather than just the younger fans that we get primarily, so yeah… should be good. I mean although their fan base is more underground it's a big one. In Japan especially, they're playing to tens of thousands of people. It's insane! We're gonna befriend them, then go and steal their fans. We need to learn some Japanese words to say to them, like, how to say 'You've got a nice cock, come out and drink?'
Sam: Maybe we should just turn up with some drink… saves the language barrier. I'm sure they'll understand that, 'we bring beer, let's drink?'
Ben: Yeah, we'll do that!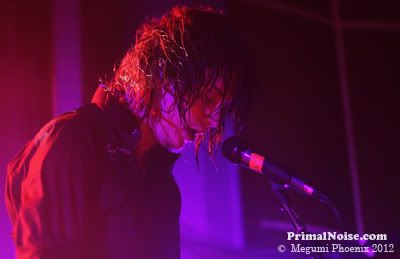 Primal Noise: What do you think about the SOPA, PIPA and ACTA stuff that's going on at the moment? What with Megaupload having been shut down last night before these acts are even in place, and then the 'hactivist's' retaliating by shutting down a few record label websites amongst others… Do you think these acts are a good thing, or bad… what are your thoughts on it?
Ben: I didn't even know Megaupload had been shut down… but still, they need to stop people illegally downloading music. People say, 'oh you're saying that because you're greedy and just want more money' but this is our job… we need money to record and tour and stuff. It's our career. You can't just go into Sainsbury's and take all the food without paying for it… You can't do that, It pisses me off! It pisses me off more that people don't understand that either. They just think bands are being greedy.
Primal Noise: I think with this though, it's more the fact that they're trying to take away the freedom of the internet. It'll be controlled. Any site that so much as allows people to freely interact with one another has the potential to be shut down if just one or two people decide to share links to any forbidden material or media. Even band forums and such things… It's more a question of 'is this the right way to go about preventing illegal downloads?'
Ben: I did hear that Twitter and Facebook were like, under threat of being shut down?
Primal Noise: I think it's all a part of the same thing… preventing file sharing and protecting copyright.
Ben: I don't care! I don't use facebook anyway.
Primal Noise: If it goes through, there's the potential that they'll be able to shut down any and all websites where people can chat freely and share links…
Ben: Ah, shit… well, back to the caveman times then by the looks of it.
Primal Noise: Okay, so this is our final question…
Ben: Two inches!
Primal Noise: -laughs- well, that wraps that up then…
If you were sent to prison, who would you want as your cell mate and why?
Ben: Kate Beckinsale so I can shag the shit out of her everyday. Simple! Plus, I'd get her pregnant and then if they didn't feed me well I'd have breast milk to keep me going…