Interview with exist†trace
Submitted by PrimalNoise on Wed, 02/06/2010 - 23:39
When PrimalNoise heard that the first all female JRock band exist†trace were coming to the UK, we knew we just had to check this out for ourselves.
JRock is widely known for being a very visual genre in itself. The sub-genre 'Visual Kei' is strongly attached to this enigmatic scene, so not wanting to miss this opportunity, PrimalNoise arranged to meet up with the ladies to get a few words.
Here's what they had to say:
PrimalNoise: In your own words, can you describe your sound?
JYO: I express the (feminine) flexibility with songs that cannot be given by a man.
Omi: I express a sensitive, feminine phrase and tone that comes out naturally as a woman, and also a heavy sound that can rival men!
miko: I am a person of composition with a meaning and purpose to live as a form called "The Music", and also I'm a guitarist opposite of my appearance.
Naoto: The heavy things expresses its heaviness and the beautiful things expresses intense quality so that my character reaches both neatly through the sound too.
Mally: I want to send power and hope.
PrimalNoise: Being an all female visual kei band; do you think it's more difficult to get a reaction from the fans and the media/press, rather than the male bands.? Have there been any difficulties associated with being in an all female band? Or has it been more beneficial?
ExistTrace: We don't think that we have disadvantages, because we express music of ourselves, so the gender doesn't matter. We think it is an advantage that we can express things that can only be expressed BY a woman. However, one disadvantage is that changing clothes is serious because when there's male bands and male staff on a tour, we sometimes have to change our outfits in a small room because of them walking through, so it's difficult with that!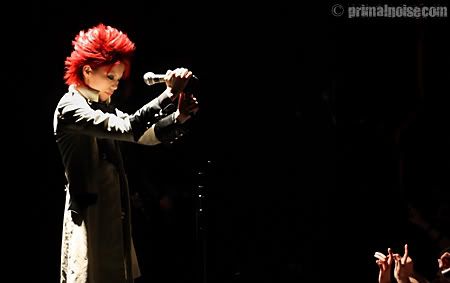 PrimalNoise: Since the UK isn't really used to seeing many visual bands, yet being a very visual band yourselves, could you tell us, do you find the music more important, or the look/style, or is it a combination of both? What is the importance of the look, what kind of role does it play in your position as a band?
ExistTrace: Because "Visual Kei" is a genre which even the appearance speaks loudly, both the appearance and the music are equally important. We want to use every possible resource to get our message across
PrimalNoise: You've currently only released one full length album, which is a compilation album, what is the reason behind this decision? Do you have any plans to release a full length album in the near-future?
ExistTrace: That full album is a digest album. It was a collection of songs that we did previously, to put an end to that activity, and then to give a development towards the next stage. The 2 mini albums which were released next have a story in each. On the first one the main character demanded freedom and fought for it, and on the second one there was a jump in time that tells of "when you notice restriction and the value of freedom once you get it". We dared to do the whole story as two parts, in the form of mini albums.
We don't have a plan to release a full album yet, but we will have a single release on June 2nd. This single is called "KNIFE", and we play it around this Europe tour for the first time, without it being heard in Japan still. We hope everyone in Europe like it a lot!
PrimalNoise: A lot of bands choose a theme when writing new material, do you happen to go by a theme? Where do you all draw your inspiration from when writing new music?
ExistTrace: We often choose a theme and go by that.
Omi:I get inspiration from movies, books and news. After that, I visualise a story, and the vision of what I want to deliver to you all becomes a text.
PrimalNoise: Who are each of your musical influences and favourite bands/artists. Who would you recommend listening to?
ExistTrace: All together, we like bands such as; Evanescence, Within Temptation, Rammstein, Bullet for my Valentine, The Beatles etc... The artist whom we want to recommend is us (exist † trace)!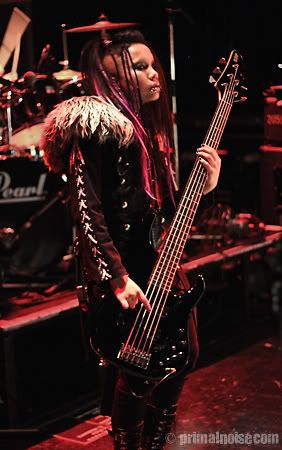 PrimalNoise: If you could tour with any other band, who would it be?
ExistTrace: *thinking* ... hmm... There's too many! Who would you recommend to us?
PrimalNoise: Uh, Dir en grey! Hmm... Metallica and Soulfly...?
Exist Trace: Soulfly....?
PrimalNoise: They're from Brazil. Brazillian band.
ExistTrace: Ahh..
PrimalNoise: Oh! Lacuna Coil, you should play with!
ExistTrace: Ahh! They're an Italian band...?!
PrimalNoise: Yes! We like them.
ExistTrace: We'd really like to tour with... WITHIN TEMPTATION!!!
PrimalNoise: By being both all female, plus a strongly visual group, you give off a very powerful statement; was this a plan of yours? Was it part of the reason you got into music, to send out a strong message, for example that girls can successfully do it too?
ExistTrace: Yeah, that's actually exactly what we want to send out, that girls can be ambitious, because at the beginning, when we started, there were no girl bands! We were the very first one. We wanted to try to tell the other people that girls can also do it. That was the message for them. We had feelings like "I don't want to be defeated by a man" or "Even of a woman, this is possible" But now, we notice ourselves doing music purely just for the love of it. The number of people who approve of us is increasing, and we hear voices like "A band with only girls in it, is able to do it!", "You give us courage!". It's things like this that keep us going.
PrimalNoise: Tell us how you all got together, what made you form Exist Trace?
ExistTrace: At first JYO (Vo) and Naoto (Ba) had the same hobby and dream as friends, and they started the band. Naoto introduced Mally who was a friend of hers, and wanted to play Drums. To form a proper band, we looked for a guitarist. Then Miko contacted us, and the other members all agreed she was perfect and she joined. Soon after, Miko decided she wanted to have a second guitar player; so we started to look for another member. It took one year to find Omi. We had some other girls auditioning to play guitar, but Miko didn't like them. *laughs* When we found Omi, we all jammed together, and Omi was a different type of guitarist to Miko and they fit very well together. We all wanted her immediately. That was when we had formed exist † trace.
PrimalNoise: Lastly, how has your Europe tour been, how have the fans reaction been, and what are/were you expecting from the UK audience?
ExistTrace: We have really been looking forward to the UK very much. Right from being in Japan before the tour, because it's the first time here. We got messages via e-mail from lots of people in Europe saying they're looking forward to this tour. Compared to Japan, every country ( in europe), the fans are so different. Everyone is so powerful and we really try to give the power back to the fans. The English people, the English fans seem to listen to different kinds of music, therefore it will be like... a triumph in a different way, we are trying to give the power back, and to try and get the fans have a good time with us. We expect a lot voices, a lot of power and a lot of love!!
PrimalNoise: Thank you so much for your time!
ExistTrace: Thank you! Thank you!


After our lovely little chat with ExistTrace, We checked out the long awaited UK perfomance, to see these girls of metal in action!
The London ULU is a small venue. The University of London's Student Union venue where a great number of acts have played. With adoring fans pressed tightly against the front of the stage, bodies haphazardly laying strewn across the front amps, Exist Trace walk on in all their smashing glory. Five Japanese ladies decked up in high gear from leather to latex. Every mans fantasy, I'd wager. Starting off with the popular 'Vanguard', a powerful and very infectious track which really brings into light what the band truly are. Following on, new single 'KNIFE', not yet heard in Japan is thrown out there. Vocalist Jyo's singing ability surprisingly melodic and beautiful, not like a lot of the typical Visual Kei bands with the screaming effect; An incredibly pleasant surprise. Exist Trace have a gothic feel with backing synths and a heavy bass sound, and harmonic guitar tunes from one side, and heavy riffs on the other.
Even though the venue is not filled to capacity, the crowd more than makes up for it in energy and power. Certainly the first 9-10 lines of people are those who are completely dedicated to this band and enjoy singing along with them. The atmosphere is still very much there, and the band give it everything they've got with power, enthusiasm and heart-felt warmth. A band with an upbeat backbone, despite the dark look some of the members have, proving once again that you certainly shouldn't judge a book by its cover. Standing to the UK audience, Jyo speaks to the room "I think London is a beautiful city. Lets make beautiful music together". With an encouraging cheer from their loyal fans, the band put every effort into their perfomance, rocking out all they've got. With softer, more cordial songs such as "Lost in Helix" gives the band a shine with a different light.
As soon as crowd favourite 'JUDEA' begins,we really see just how captivating this band is. Strange growls and grunts introducing the song which can make even the most unsuspecting listener raise an eyebrow, but with a catchy and repetitive chorus that keeps you hooked.However, the strong bond between both band and the loyal fans were proven when Jyo takes to acapella, continuously repeating the chorus and every single member of the audience singing along with her. The experience something quite spectacular and moving with a small intimate crowd, no instruments and the sound of hundreds of predominantly female voices all in unison.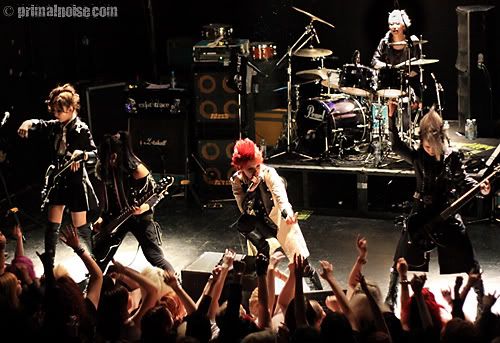 Language has no barrier when love of music is concerned, and tonight proves it. Following the captivating 'JUDEA' is the high spirited and upbeat "Owari no nai sekai" to keep the audience in a bouncing mood.
After a short encore, ExistTrace return to the stage to give the crowd a little taste of more. Straight back in as if they never walked off with a dark and forboding track, which doesn't disappoint those with need to just headbang to something heavy. Revealing "Last song!" a fair few times, the band perform their final track "RESONANCE" with as much umpf and pizaazz as when they started out. This band doesn't lack finesse, and with the turnout at the show, they are clearly underrated. Exist Trace performed with vigor through the entire 17 song set, and really do prove that girls can do it too! A fantastic performance from a band that can only head for more and more success.
SET LIST:
1. VANGUARD
2. KNIFE
3. ROUGE
- -
4. Hana no sakanai machi
5. Mirror
6. unforgive you
--- overture ---
7. Ambivalence
8. Requiem
9. Lost in Helix
10. THE COLORS
11. Orurean no Syojo
12. Venom
13. liquid
14. JUDEA
15. Owari no nai sekai
Encore
16. Water
17. RESONANCE